XTB review and test
XTB is an emerging broker for CFDs, Forex, stocks and ETFS. The CFD broker from Poland offers a wide range of tradable markets and its own trading platform xStation 5. You can read about our experience with XTB and the xStation 5 platform in our detailed review.
What does the XTB platform offer? 
The first impression of the xStation 5 platform from XTB is very good. The platform is very clear and yet offers many functions. All functions are clearly structured and new customers quickly find their way around.
On the left side you will find the trading terminal. Here you can find all tradable markets and CFDs that XTB offers. The search is very intuitive and you can quickly find the underlying assets you want to trade. If you click on an underlying, the trading window opens. Here you can find more information about the underlying or open its chart or save it in the watchlist.
We especially like the possibility to open multiple charts in the main window. This is very convenient for people who do day trading or generally want to watch different markets at the same time. There is no limit to the number of visible charts. You can open as many charts as you want. Of course, as the number increases, each chart becomes smaller. This feature is a plus point in our XTB test.
In the lower area of the xStation 5 platform, there is an overview of all open positions and currently pending orders that have not yet been executed. The lowest bar contains an overview of the available capital on the XTB account. Overall, we find this layout very successful. It is simple, yet functional and professional. If you are not satisfied with the size of the individual areas, you can change them at any time.
Apart from the charts, the main window contains the other functions of the xStation 5 platform. Among them there is a window for news, an economic calendar, an informative market analysis, the training area and the account history.
Tools and indicators for chart analysis:
Firmly integrated in the xStation 5 platform are a large selection of tools and indicators for chart analysis. Since chart analysis is very important for CFD trading and for a good trading strategy, XTB performs very well here in our test. In addition to the classic chart tools, important indicators such as moving averages, RSI, Fibonacci and many more are also included. The chart analysis tools offered by XTB are sufficient for the majority of applications and are more than adequate for CFD trading.
An individual visual design of the chart analysis tools lets the charts remain clear. It is also practical that the settings can only be made for one chart. If you want to apply the settings to all other charts, you can confirm and apply them with a check mark in the settings.
Market analysis with heatmap, stock and ETF scanner:
The heatmap offered by XTB is very practical. With the heatmap, you can quickly and easily get a rough overview of the development of the overall market. Some people may know this feature from other services, such as Bloomberg. Here, the heatmap is integrated free of charge into the xStation 5 platform of XTB.
The interactive heatmap is arranged according to the categories Forex and shares from the USA and Europe. The development can be displayed for one day, one week or one month. Within the individual categories, the shares are sorted by industry. By clicking on the sector, you can view the individual stocks contained therein and their performance. Forex is displayed clearly and interactively for each currency pair offered.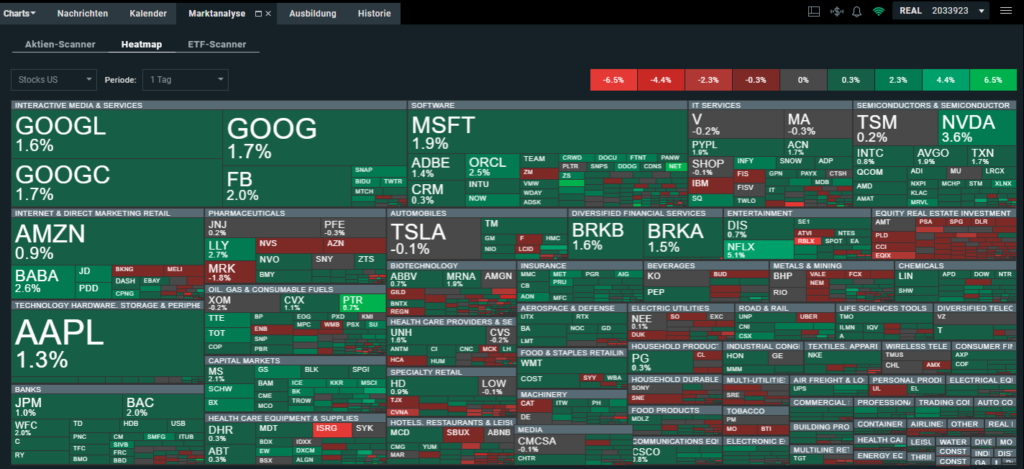 The heatmap distinguishes XTB in our test and we made good experiences with it. Hardly any CFD broker offers this function and especially professional traders will appreciate it.
Another highlight in our XTB test are the integrated stock scanner and ETF scanner. With the stock scanner, stocks can be filtered according to specific criteria. You can also search for individual sectors and countries.
Shares can be searched according to the following criteria:
Market capitalization
Sales per share (EPS)
Price-earnings ratio (P/E)
Dividend yield
Return on Investment (ROE)
BETA
The ETF scanner from XTB is also very practical. However, in our test it was not as comprehensive as the stock scanner. Nevertheless, it is a very good tool to search specifically for ETFs. For this purpose, you can filter by net capital, TER, cumulative return, 3-year standard deviation and 3-year alpha. A rough pre-selection can already be made by classes, regions and markets. The data and the ratings of the ETF Scanner are provided by Morningstar.
Risk note XTB: 73% of CFD retail investor accounts lose money.
We had a very good experience with the stock and ETF scanner in our XTB test. It is a very helpful tool to find and invest in quality stocks. The fact that the screeners are integrated into the xStation 5 platform for free is a big advantage of XTB compared to other brokers. Even if you have another custody account for long-term investing, it is worth using XTB's stock screener to find good stocks. While there are other services that offer something similar, they usually cost money. The ETF Scanner is also very helpful and we can fully recommend it.
News and economic calendar:
Among the news are headlines from the various areas of the stock market. With the handy search window you can search for the news you are interested in. However, you can read the news only with an activated live account.
In the economic calendar you can find all important indicators and key figures from the world economy. The individual indicators can be filtered by date, country and their impact on the stock market. Very practical and clear we find forecast of analysts and what was previously published figures. With the currently published figures, the information can be classified and evaluated.
The economic calendar also includes a dividend calendar. Here you can search for individual dividend stocks and find out when the dividend will be paid and how much. The dividend calendar is a nice feature, especially if you trade real stocks at XTB.
Training offer:
Another special feature at XTB is the large offer of training material in the form of videos. In the training videos, recognized financial professionals explain how you can improve your own trading. But also general market analyses are included as well as live trading with the professionals. Even though many other CFD brokers offer training material, XTB's material is very detailed and quite instructive even for experienced traders.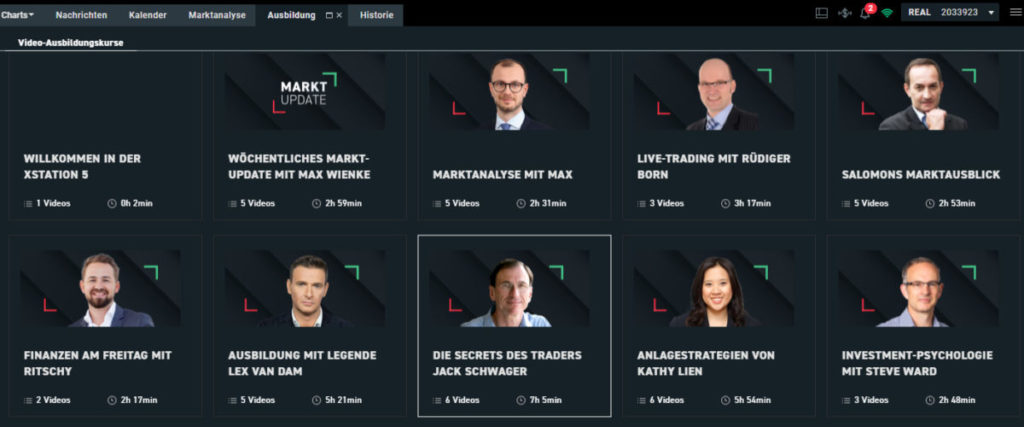 Which markets can be traded at XTB?
Trade CFDs at XTB:
In our experience, the CFD broker XTB offers a wide range of tradable CFDs. However, there are differences in the offer compared to other CFD brokers. For example, the range of forex, cryptocurrencies and commodities is very good. Especially with over 50 different currency pairs, XTB is very well positioned in forex trading with CFDs. 
The range of tradable crypto CFDs is also balanced and stood out positively in our test. Thus, there are not only the classic cryptocurrencies and altcoins, but also more exotic cryptocurrencies. 
Here is a list of CFDs on cryptocurrencies that are tradable at XTB:
Bitcoin
Ethereum
Litecoin
Ripple
Bitcoin Cash
Binance Coin
Cardano
ChainLink
Dogecoin
EOS
Polkadot
Stellar Lumen
Tezos
Uniswap
XTB also offers a very good range of commodity CFDs. There are particularly many CFDs in the area of industrial metals. For example, the CFD on zinc, which is only tradable at a few CFD brokers. But also other industrial metals such as nickel and aluminum are tradable in addition to the standard metals such as gold, silver or copper. The range of CFDs on agricultural commodities is also large and CFDs on CO2 certificates can also be traded at XTB.
| Metals | Energy Raw Materials | Agricultural commodities | Other |
| --- | --- | --- | --- |
| Gold | Oil (WTI & Brent) | Cotton | CO2 certificates |
| Silver | Natural gas | Coffee | |
| Copper | | Wheat | |
| Platinum | | Soybeans | |
| Palladium | | Sugar | |
| Aluminum | | Cocoa | |
| Nickel | | Corn | |
| Zinc | | | |
Customers have to cut back on equity CFDs and CFDs on indices. Here, the offer is not as large as compared to other CFD brokers rather average. However, those who mainly want to trade the major indices as CFDs will not have much of a disadvantage here.
Real shares and ETFs trading at XTB:
In addition to CFDs, XTB also offers trading in real shares and ETFs. For customers of XTB this offers the possibility to combine trading and investing in one account. This saves the bureaucracy of having several securities accounts at the same time and saves time. In total, XTB offers over 2800 shares and over 250 ETFs for trading.
In combination with the stock and ETF scanner of the xStation 5 platform, XTB offers investors a powerful tool to distinguish good from bad stocks and ETFs.
Is XTB reputable and regulated?
During our test, we can classify XTB as a very reputable CFD broker. XTB is regulated and supervised by the largest financial regulators in the world. Among them are the British FCA, the Polish KNF, the CySEC from Cyprus and also the German BaFin.
At XTB, a lot of emphasis is placed on educating the customer. It should be emphasized here that XTB intensively points out the risks of CFD trading to the customer and also focuses on education and transparency during registration. Thus, every new customer is contacted by an expert from XTB to clarify any questions regarding the platform or CFD trading. In our tests, XTB stands out positively here!
The CFD broker XTB has over 15 years of financial market experience and has already received several awards. In total, over 300,000 CFD traders entrust their money to XTB. Deposit protection is a top priority at XTB and XTB only works with recognized banking institutions whose creditworthiness has been verified.
How good is XTB's customer service?
In our test, we always had very good experiences with XTB's customer service. When we had questions, we were always informed competently and in detail. You can tell that the customer service employees really know their stuff, and that gives the customer a feeling of security and seriousness.
How high are the fees at XTB?
The spread fees are presented in the platform in a very transparent and professional way. Many CFD brokers hide their spreads in the information. At XTB, the spreads and fees are clearly visible in their amount. The spreads are variable and change continuously. CFDs are tradable from 0.7 pips, which is very favorable compared to the industry.
Just like the spreads, the overnight funding is also variable. However, compared to other CFD brokers, we can say that the overnight funding is lower than most CFD brokers.
Withdrawals are free of charge as long as they are over 200€. Withdrawals below that will incur fees. The amount of the fees are approximately 10€, but should be looked up for more detailed information on the website of XTB if necessary, as well as for other fees.
Unfortunately, after one year without using the XTB account, an inactivity fee of €10 is incurred. Some other CFD brokers have this inactivity fee as well, but we would have liked to see XTB waive it.
XTB Test: Trading App
XTB offers a corresponding app for mobile CFD trading for its award-winning trading platform xStation 5. This contains all the functions that can be used with the desktop version of xStation 5, which means that you can also carry out all CFD trading on the move from your smartphone. The XTB app behaves very smoothly and reliably. The connection with the XTB system is given at all times in our test.
Risk note XTB: 73% of CFD retail investor accounts lose money.
Does XTB have a demo account?
Yes, like most CFD brokers, XTB also has a free demo account. The demo account is integrated into the in-house trading platform xStation5. With the demo account of XTB, you can get to know the platform and explore almost all functions.
Risk note XTB: 73% of CFD retail investor accounts lose money.
How do deposits and withdrawals work at XTB?
XTB offers several deposit options, including bank transfer, Sofortüberweisung, credit card and Paypal. To make a deposit, one must have opened a live account and also verified. The verification process can be done quickly and conveniently online with an ID document. After that, the deposit is unlocked and CFD trading can begin.
Withdrawals are made by the Cypriot XTB subsidiary to the customer's reference account. Depending on the payout type, the duration of the payout at XTB can vary. Payouts via Paypal are usually processed within a few business days. Bank transfers, on the other hand, can take over a week. In our experience, the payouts from XTB have always been carried out reliably and quickly.
XTB Experience: Advantages and disadvantages at a glance
Advantages of XTB:
Excellent trading platform xStation 5
Very good customer service
Stock and ETF Scanner
Interactive performance heatmap
Wide range of training materials
Wide range of Forex CFD
Wide range of commodity CFD
Disadvantages of XTB:
Few small-cap stocks tradable
Inactivity fee of 10€ after one year
XTB rating and conclusion:
We have tested the CFD broker XTB intensively and overall our experience has been very good. XTB is rightly a broker that is gaining more and more popularity, as it convinces with a good offer and a very good platform. Particularly noteworthy is the specially developed xStation 5 trading platform, which offers some great features.
Especially traders who are interested in Forex, commodities and cryptocurrencies will find a wide range of tradable CFDs at XTB. The possibility to trade real stocks and ETFs, in combination with interactive scanners in the platform, underline the very good offer of XTB. In our experience, XTB is a broker that is definitely worth a visit!
Step-by-step guide: CFD trading at XTB
Step 1: Registration
On the website of XTB you first have the choice to register for the demo account or directly for the live account.
Risk note XTB: 73% of CFD retail investor accounts lose money.
After registering for a demo account, you can open the live account from the platform. First, the personal data required for the purpose of regulation and account opening are requested. Among them are the name and address, date of birth, email, phone and password for the CFD account. Furthermore, you can select the contact language with which the XTB customer support answers questions. There are over 14 different languages available.
Part of regulatory guidelines is the query of financial knowledge and investment behavior. For this purpose, XTB asks questions about the frequency and order size of CFD trades already executed. Finally, you only have to confirm the usual risk instructions and terms and conditions. After that, the account opening at XTB is completed.
Step 2: Legitimation and deposit
After opening the live account at XTB, it must first be confirmed by an identity check. Only then can deposits be made. When depositing, the already described fees of the respective deposit options and the minimum deposit amount.
Step 3: Select asset
Through the terminal in the xStation 5 platform, you can search for the desired assets and CFDs. In the terminal, these are sorted by categories such as commodities, forex, stocks and others. Clicking on the icon opens the trading console where you can place an order.
Step 4: Open CFD Trade
To open a CFD position, you first need the necessary margin in the form of freely available, deposited capital. If this is available, you can choose the desired CFD and select the desired amount. You can also decide which order type to use. As order types, the immediate purchase, but also limit order and of course stop-loss and take-profit are available.
Step 5: Close CFD Trade
All open positions can be found in the xStation 5 platform in the lower area. If you want to close the CFD position again, simply click on the "Close" button and the CFD will automatically be closed at the next best price. The margin is then available again for further trades.
Risk note XTB: CFDs are complex instruments and involve a high risk of losing money quickly because of the leverage effect. 73% of retail investor accounts lose money trading CFDs with this provider. You should consider whether you understand how CFDs work and whether you can afford to take the high risk of losing your money.